Sri Sankara Smartha Samskrutha Patasala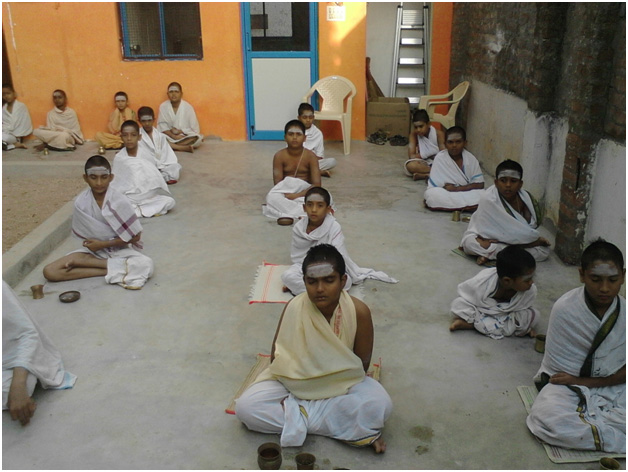 Objective
The Samskurtha Patasala brings the treasures of the Vedas and the benefits of modern education at Vidyaniketan Public School. One should constantly strive to acquire knowledge and by doing so one shall be praised and respected amongst by scholars. There are two ways by which knowledge can be imbibed-from an able guru and self study.
Ghatikasthanam means a "Place of learning". Learnt not just through listening but also observing the Guru. The education was holistic and nurtured the students morally, spiritually and academically. The school has a library that specializes in Sanskrit, Vedas, Shastras and Puranas. The central Dining Hall and separate Dhyana Hall come into full force during celebrations. This Vidyarthis also receive training in music and sports.
Nithya karmanusthanam
Sandhya Vandhanam
Namakam
Chamakam
Stotras
Sanskrit
Music
Sports
Home to some unique and rare books, the library is ideal for research in our rich cultural past. Supported by Sri Rajagopal and Sri Vijaya Krishna Rajagopal, the founders of the Vidyaniketan Public School, Ullal, Bangalore. This is an ISO 9001-2000 certified educational institution and offers world class facilities for students.
Integrated Patasala :
Sri Sankara Smartha Samskrutha Patasala
Ullal Road Cross, Ullal Upanagar,
Bangalore 560056.
Gurukulam Style Integrated Patasala :
Sri Kamakoti Patasala
Samalkot